​All video courses
MDR – Medical Device Regulation Masterclass
​Get to know the most important parts of MDR. So you will quickly know what is relevant for you and what you have to implement.
​​Save time and moneyNo costs for travel and accommodationt​
​Work on your current topicSkip topics you already know or are not interested in
​​New content is created for your specific question We prepare new or missing topics for almost all requests​
​Growing and up-to-dateThe courses are continuously supplemented with current information (e.g. MDCG Guidances, MDR Corrigendum)
​Videos, checklists and graphicsYou will find many of the complex relations within the MDR in condensed form in explanatory videos, checklists and graphics​
​​​​Summaries and newsletterWith bsi as notified body despite Brexit? Was there a corrigendum or new guidance? You will find many current topics in our free newsletter. In this course you get full access to current but also older issues.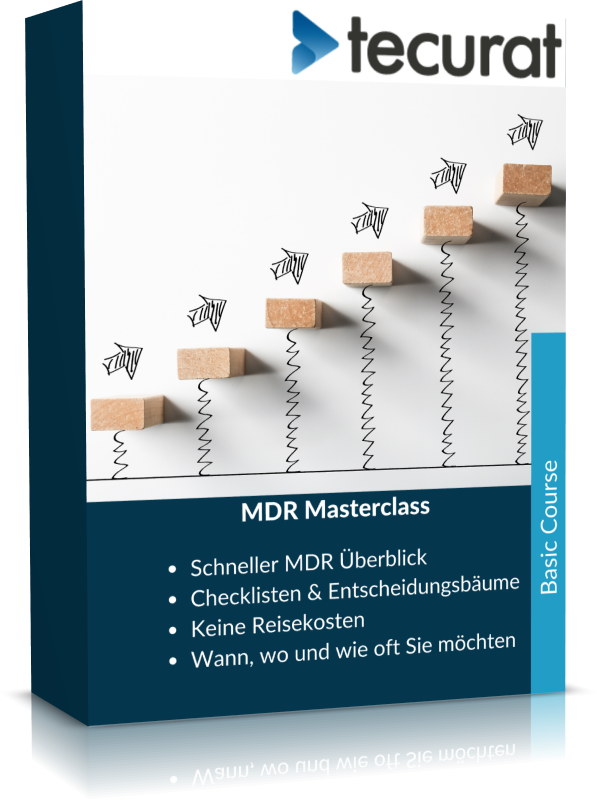 ​Book a favourable annual subscription with full access here.Or use the flexible variant with monthly payment – also ideal as a 1-month test.Click on "Register now" and you will receive immediate* access to the course content.
*​after processing the payment and the registration data
"Sorry, our courses are not yet available in english language"
MDR MasterclassBasic
Simple and fast ​access, monthly payment
​can be cancelled monthly
​Acces 24/7 all days
​Access to all content of MDR Masterclass
​Includes regular content updates
MDR Masterclass​complete
​Complete ​course content, immediate access​
​​
​Access 24/7 all ​days​
All benefits from Basic package
​Reduced yearly payment
​includes technical support requests
​​Includes regular content updates
​Free requests for additional content
Includes online Trainings & certificates (Upcoming)
MDR MASTERCLASSPreMIUM
​Intensive MDR Coaching package
​Access 24/7 all days
​All benefits from Complete package
​​Free premium requests for content
​Regular webinars for MDR content (Upcoming)
​Includes subscription for always up to date MDR Ringbook
Includes regular consulting calls (Upcoming)
Reduced prices for our training sessions (Upcoming)
​What does the course contain?
​The courses are divided into several chapters. In the current state the course is built up and more and more content is added continuously.
We work together with various experts from different subject areas, and so you will ultimately – and at no additional cost – get a complete overview of MDR.
​Including detailed insights into all MDR relevant topics, such as UDI or post-market surveillance. You will also receive checklists and questionnaires for dealing with MDR topics.
​​You prefer to work with explanatory videos, checklists or graphics?
​In our courses you will find variously prepared contents. Your favourite method of getting acquainted with complex topics is.
​Which parts of the MDR does the course contain?
​The aim of the course is to cover the full scope of MDR and all requirements.As there is still rather little experience with MDR on the market, we have designed this course to be regularly expanded with new content. You will then also have immediate access to the new content.
​For which manufacturers and products is this course suitable?
​The course has the goal to show the requirements of the MDR.
Without a focus on specific manufacturers or products.
All requirements of the MDR are presented, even if some of them may not apply to you.